First order of business: I'd like you all to welcome my sister

amybrogna
to the world of online journaling. You don't HAVE to friend her, but she's new and can use all the (virtual) friends she can get ;)
Second, my, my I've been busy. A few weekends ago I attended an Occupy Denver march with MyFriendDeb. It was inspirational and empowering, with about 2500 other Denverites joining us (couldn't find any official count anywhere). I made a sign which unfortunately no one understood and I had to explain to about four people:
The "53%" is the conservative counter-movement that appeared shortly after the 99% started really picking up. Their deal is that they are the 53% who actually work and pay taxes to make it possible for the lazy, dirty, welfare-sucking hippy 99% to sleep in parks and whine on sidewalks all day.
They haven't really caught on as quickly, as evidenced by their Facebook page likes in the 4 digits, while the original OWS FB page is in the 6 digits (because you're no one if nobody likes you on Facebook). You fail, 53%. You fail at social networking and you fail at life for continuing to buy into the fairytale that you might be in the 1% some day if you just work hard enough. Ain't gonna happen. I'll get to that later.
Fortunately I made another sign on the back that was much more popular: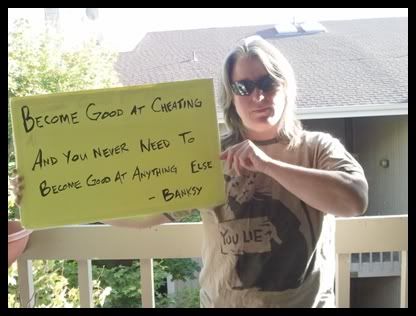 Notice the highly relevant Banksy T-shirt as well
It was a lovely day for a march. The only low point came just after the march began. When we first arrived in the city we both had to pee badly (two old ladies with small bladders -- Wall Street better be shaking in its alligator skin boots). As we hurried downtown to catch up with the marchers, we passed a Portapotty left on the sidewalk for construction workers. It was open so I gladly availed myself. Deb though was too good for such humble facilities, so opted to wait -- until the march took us past one of the only public restrooms downtown, which is located way up behind the shops and set back in a service corridor of the open-air mall. She left to use it. I told her three times to be quick, then stood there helplessly as everyone marched past me. I gritted my teeth silently...so help me, if she put us at the back of the marchers....not quite, but I still wasn't terribly pleased. I'm not even going to teasingly ask you if you thought she apologized.
I was going to make a video of the day, set to the song "Counting Bodies Like Sheep to the Rhythm of the War Drums" by A Perfect Circle -- which is actually perfect lyrically, if a little intimidatingly heavyhanded musically -- but lost interest fairly quickly in this project. I did save an album of photos of some of my favorite signs from the day.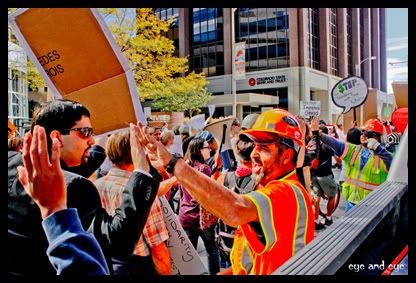 This was the highlight of the march -- construction workers stepped up to high-five us. I switched course just to be able to pass them. The photographer who took this shot annoyingly makes all his photos look like WWII propaganda posters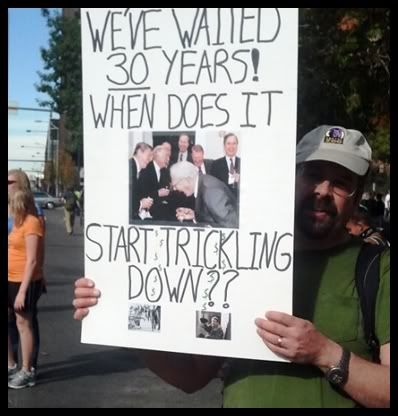 Excellent question, my good sir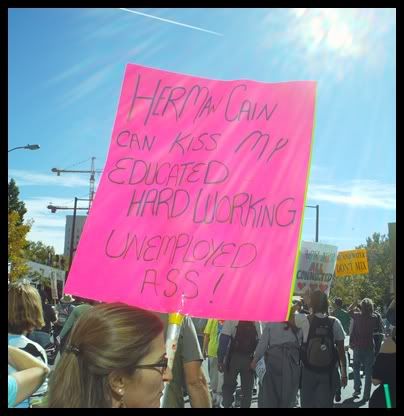 HA. Take that Cain, you self-made pompous fuck
So, the Occupy movement. Still have no idea what it's all about and why people can't just shut up and go back to their homes like good little Americans? It's not your fault if you don't -- the mainstream news has stayed determinedly willfully ignorant about it (when not going out of their way to slander it). For you I offer an Occupy 101 Primer to debunk some of the corporate-controlled media's favorite lies about it (warning: There is a LOT of information back here, but I've done my best to sum up days' worth of reading).
( ::Artists use lies to tell the truth...:: )
I kind of feel like the Occupy protestors are the ones who took Morpheus's red pill in
The Matrix
, and the rest of America are the ones taking the blue pill and still naively believing our government is working for us and our best interests. After learning all that I've learned, I don't see how it's possible for anyone, liberal, conservative or other, to disagree with Occupy. At the very least you have to admit, OWS may not have all the answers, but at least someone is finally asking the right questions.
~*~
I think television programmers are trying to distract us. Remember a sitcom that came out last year called "Outsourced," about a wacky bunch of Indians trying to adapt to an American business model while taking over off-shore US jobs? Putting a human face on large percentages of Americans losing their livelihood to this practice. This year we have "2 Broke Girls," about a Paris Hilton with a heart of gold whose poor father was the victim of a Ponzi scheme. We're supposed to sympathize with her family falling from the 1% and being forced to slog it out down here with us.
Forget religion--sitcoms are the new opiate of the masses. And have you noticed how many ads there are for luxury cars lately? It seems like Madison Ave is almost as out of touch as Wall St.
~*~
In health news, well,
( ::I've been quite busy here as well:: )
~*~
( ::Halloween:: )
~*~
Last but not least: The next time I talk to you, I will have gone to New York to see Rickman on Broadway!